This Year's Experience vs. Climatology
Last week's post explained the type of weather pattern experienced by anyone on the Perpetual 70-Degree Vacation outlined here who started the year in Florida. By comparison, let's now look at how the results have been for those who spent the mid-winter of 2020 in other favorite winter escape places. When reading these details, keep in mind these points: weather will vary from day to day. No wintertime climate to which one can drive is totally free of rain or chilly mornings. Even a general weather forecast (specifying only warmer or colder than normal) is less likely to be correct once the prognostication period extends beyond 10 to 14 days.
Let's look at the weather patterns so far this year in far south Texas and in the Arizona desert.  The Brownsville, Texas area was even warmer with respect to normal than south Florida in the first six weeks of the New Year.  As a result, Brownsville enjoyed 14 days in the 80s during the first 44 calendar days of 2020 – not too many fewer than the 20 such days experienced by those spending January in Miami and the first half of February in Orlando.  Brownsville rainfall has been well below normal so far in 2020.
The Phoenix area by contrast has shared in the cooler weather pattern prevailing in the West during the past couple months. January temperatures averaged less than half a degree above normal, and the first half of February averaged more than three degrees cooler than normal. Notably, Phoenix did not reach 80 degrees at all in a three month stretch between November 18th and February 20th. The Arizona deserts do tend to run about ten degrees cooler on average than south Florida during the coldest portion of the winter. Normal highs in Phoenix are only in the mid to upper 60s during January. This is one reason that the "70 degree road trip" goes to Arizona at the end of the calendar year — before temperatures bottom out in January. As in south Texas, Phoenix-area rainfall had been well below normal so far in 2020 until this wet third weekend of February!
It's interesting that some of the better long-range forecasters had expected Arizona and southern California to have a warmer than normal winter of 2019-20. With seasonal forecasts relying on so many varied indicators always remember that they're a lower confidence product than the 6 to 10 day outlooks. While better than tossing a coin these longer range outlooks are seldom issued with high confidence and are subject to revision as each season progresses. If one has to choose a single location to spend winter, you still have uncertainty over what type of winter you'll have. Those who can move every few weeks, and trust their two to four week outlooks could literally pick up and move every few weeks to where the forecast shows more warmth and less rain!
Springtime Journey North – 2019 Experience
The 70-degree road trip takes its devotees away from the Sunshine state as we prepare for the return of daylight time (on March 8th) and the spring equinox (on March 20th).
The March destination is Savannah, GA where normal high temperatures rise from the middle 60s on the first day of March to around 75 degrees on the 31st of the month. Average rainfall for the month is about 3.7 inches. In 2019, Savannah ended up with less than half of its normal March rainfall – and almost all of that fell in the first few days of the month. Last March also started off very warm. All five of the March days which reached 80 or warmer were in the first half of the month. By contrast, the second half of March, 2019 was almost totally dry in Savannah and averaged a bit cooler than normal.
Asheville, NC in April is an interesting location. It is the most likely time for the road trip to see late season snow. Though it did not snow in April of 2019, there were a couple mornings early in the month chilly enough for some light frost. Asheville does see snow on about one April day every three to four years. Normal highs rise through the 70s during the month. Severe thunderstorms are not out of the question, but the risk of tornadoes at this higher elevation is not as high as in other areas at similar latitudes. Early spring is a notably turbulent time of weather throughout the entire Nation, so the southern Appalachians are likely as good a place as any to ride out the change of seasons!
Starting in May, we get into consistently warmer and progressively more stable months. For those who want to see the other eight months of 70-degree road trip destinations, read the details here. A sneak peek at summer destinations include Kansas City, South Dakota's Black Hills, Montana's Glacier Park, and Seattle, WA.
Where to Go for Ideal Temperatures
Wouldn't it be wonderful to live in a climate in which every day had ideal temperatures?  The solution for some is to relocate farther south.  They may choose southern California or south Florida for their mild winter climates, but how does Miami work for you during the enduring hot and humid summer months?  Or would you prefer southern California?  For those who choose the coastal areas, the Santa Ana winds push hot temperatures (and high fire danger) along the coast in the fall.  Those who choose the desert face months of oven-like heat from June through September.
As online connectivity has grown ubiquitous, it has given many more people the freedom to live and work wherever desired.  In response, some people travel perpetually and a plan to follow the best weather wherever it is found.  It's notable how much this concept is covered online.  Search the internet for "Perpetual 70 Degree Vacation" and quite a few options are returned.  As we wait for winter to turn to spring in these next few weeks, I will look at a couple such proposed routes.  These are guides for following heavenly weather to the places in which it's most likely to appear on a particular calendar date! 
In a blog post on the rvshare.com website I found this proposed route.  It offers the simple solution of moving once per month.   The recommendation starts the year with spending January in Miami, and February in Orlando.  From an average temperature perspective, I do like this idea.  By comparison to other southern destinations, Florida is clearly more sheltered from the risk of unseasonable cold outbreaks during the winter.  In Arizona, near or below freezing temperatures are more common in winter.   Phoenix had three nights in the middle 30s earlier in February.  For another comparison, in south Texas the mid to late winter record lows are in the teens.  The tradeoff:  Florida does have the potential to be very wet and even stormy in the late winter months.  Next, let's see how the first six weeks of 2020 have turned out for those following this itinerary!
Excellent Weather So Far
Florida has been warmer than normal this winter.  During January, Miami experienced just six days that were cooler than normal and only one cloudy day!  While normal January highs are in the mid to upper 70s, Miami reached the 80s on 14 days during January.  Drier than normal weather prevailed until the last couple days of the month.  The first 29 days of January  brought an official total of just half an inch of rain, so those who started this year in the Miami area likely found the month's weather very much to their liking.
The first half of February continued the warmer than normal pattern in the East.  The "70 degree itinerary" has now moved its adherents north to the Orlando area where normal highs in early February are in the lower 70s.  The first 14 days of February averaged five degrees above normal at Orlando, including six days with highs in the 80s.  It rained more than a tenth of an inch on just two days during the first half of the month.
For some, one location per month may not provide enough variety. Next week, we'll look at a similar itinerary featuring many more destinations.  Created by a climatologist, it suggests moving steadily along a route with different stops several times a week.
Recent Concerns and Controversies
It's easy for some to caricature weather forecasters as agonizing only over the next day's forecast, and worrying about how the latest predictions will turn out. An internet search on what worries meteorologists reveals a couple categories of longer-term concern. Government policies and a couple varieties of what could be called "fake weather" have gained attention during recent months.
Government policy or its absence
One of the recent issues pertains to the rollout of 5G technology.  The frequency on the electromagnetic spectrum auctioned off for the buildout of 5G transmissions lies very close to that on which weather satelllites transmit data.  One report from NOAA mentioned here warned that in a worst case scenario, well over half the data coming from microwave transmitters could be lost due to 5G signals bleeding over into the satellite frequencies.  A problem like this could cause untold difficulty not only for weather research, but for the entire forecasting industry.  Not many people realize what large quantities of satellite-derived data are fed into our weather forecasting models.
Fake Weather – What we Know
A storm of controversy erupted last September when NWS forecasters publicly contradicted a statement made in a tweet by President Trump. The dispute concerned the potential impact of then-Hurricane Dorian on Alabama when the storm was bearing down on the Carolinas. While the facts in this incident are pretty clear, the handling of the controversy by NOAA officials led some to lament the possibility of weather forecasts becoming politicized. In a worst case, that could cause some people to begin ignoring potentially life-saving information.
Fake Weather – What we Don't Know
One well-known forecasting firm has since 2013 created and distributed detailed 45-day (and longer) forecasts. In response, a study in the journal Science noted that accurate and specific temperature and precipitation forecasts are not possible more than about seven days into the future. Read about the debate on this issue here. Based on the poor track record of some forecasts made for much shorter time frames, it's clearly unwise to place too much trust in anything purporting accuracy for specifics beyond five to ten days. I like this Indianapolis-based company for predictions and clear explanations of longer-range weather patterns. They are consistently accountable and educational in their approach. Though their services are fee-based I suggest following them on Twitter for some good free information.
We have reached an exciting date on the calendar. At the start of February, spring is in sight. We are six weeks past the shortest daylight time, and the normal daily temperatures are starting their slow climb from the January nadir. Perhaps best of all, spring training baseball starts this month in Florida and Arizona! So how long and hard was the winter from which we hope to emerge in a few weeks? Meteorological winter is defined as December through February. This "winter" has one month remaining and so far ranks easily among the top five warmest on record for the Nation. This is reflected by the past 60 days' temperature anomaly map below.
Month by Month Details
For the US as a whole, December of 2019 was the sixth warmest December in the past 125 years! It was also the Nation's sixth consecutive warmer than normal December. The month of January just ended turned out to be even warmer than December with respect to normal and record warm in many eastern cities. That ranks it much warmer than January of 2019 which barely made it into the top 30 warmest on record. For perspective on the past month's warmth, Pittsburgh, PA had an average temperature for the entirety of January right at 35 degrees. That matches their daily normal average temperature for early March!
Mapping the Winter Severity
Look at the map below showing the Accumulated Winter Season Severity Index as of February 1st. This factors both temperature and snowfall into the severity calculation.
It shows that an "average to mild" winter has occurred to date in most of the Upper Midwest. A few areas in the Northern Plains and central Rockies rank with a severe to extreme winter so far. Even those areas haven't been very cold compared to normal. They have, however, had some huge amounts of snowfall keeping skiers and snowmobilers very active. By contrast look how mild it has been in the East. The first two months of winter have been record warm (denoted by red diamonds) along the Ohio River and southward. The map shows no reports from the Gulf Coast or most of the Desert Southwest because those places do not have enough wintery weather history against which to rank.
Winter Doesn't Always End Early
It was the late portion of last winter and on into spring (February through April) that produced the unusual cold and snow in much of the northern US. In fact, for the Northern Plains and nearby areas the winter of 2018-19 had the most precipitation of any winter since at least 1895! The region between the Rockies and the Mississippi River also had a top ten wettest spring (March through May) in 2019. Though late winter of 2019 was extreme in its intensity, it's not uncommon for the snow season to finish strong. For a location such as Minneapolis-Saint Paul more than half of the seasonal snow has fallen after January 31st in 40% of the winters.
While the story of this winter still is not fully written, there is no end in sight to the warm pattern locked in over the eastern US. Even this Climate Prediction Center outlook for February shows an elevated probability of above normal temperatures (implying many more days of spring-like warmth) prevailing along the East Coast.
With the warmth will come plenty of humidity and the potential for early rounds of severe weather especially from Texas into the Southeastern states. Those camping in or traveling through these areas will want to follow the Storm Prediction Center website for updates as the first of these episodes will occur February 4th through 6th. Meanwhile the Desert Southwest will see up and down temperatures due to a more fluctuating pattern in which temperatures will average closer to normal. There will even be some nights with unseasonable chill and scattered frosts deep into southern CA and AZ.
I have noticed that if a large storm system does not arrive when expected the eventual amount of precipitation will often be much different than originally forecast.   It's only right that your confidence in a forecast would be shaken if the timing is incorrect. 
Weather systems strengthen, mature, and then weaken over time. The same storm doesn't last long, so a storm existing at noon is different than the same one in the early evening. In fact, if the timing changes by even three hours, the storm may catch your area at a different point in its life cycle.
Other weather systems (high and other low-pressure systems), and various upper-level features are constantly interacting with and steering storm systems.  This means that the track often changes when the timing changes.  High pressure could be building in to protect your area from a snowstorm that comes in 12 hours late.  If that storm delayed yet another six hours that protective high pressure could be moving away allowing the storm to take a more direct path toward you and produce higher impacts than first expected. National Weather Service forecasters look for these types of interactions and point out trends in speed and intensity of weather systems in the Area Forecast Discussion or AFD (see how to find the discussion below)– released twice per day by around 4AM and 4PM local time.
These AFDs focus on explaining the weather conditions resulting from any changes in weather system track, speed, or intensity.  They also discuss the anticipated weather impacts on everyday life.  The discussions have become more readable in recent years and usually don't contain too much technical jargon.  Interestingly, it has been only about four years since these discussions began to appear in mixed case text rather than ALL CAPITAL letters (see why here).
There is a guide to understanding local forecast discussions written by Paul Huttner, chief meteorologist for Minnesota Public Radio.  Reading that may be of interest if you are a new user of such information.
One great thing about reading the AFDs is that they help the reader to anticipate changes to the forecast before they happen.  The discussion details may also (especially when used with the hourly forecast graph explained here) allow you to read between the lines,  finding details which are too fine for inclusion in the wording of the forecast. 
I conclude this four-part What to Do When You Don't Know series by focusing on the forecast user's particular preferences and concerns. The effect of the weather is so greatly dependent on the human element, that you must consider yourself the key determinant of weather being suitable or unsuitable for fulfilling your day's plans. 
Perception is the Key
When traveling in poor weather, a huge key to comfort and safety is one's perception of the severity of unpleasant conditions.  Here is one example: some people tolerate wintery driving conditions very well while others are undone by the thought of driving on slippery roads.   There's also a time element involved.  How many miles or how many hours can I drive in rain or wind (or even bright sunshine) before I am exhausted mentally or physically?  While I love driving in daylight rather than at night, I have far more endurance behind the wheel on a cloudy day than on days with vivid sunshine.  Here's another consideration for travel on those less than ideal weather days: will taking more breaks get me through this drive, or do I need to divide the journey into two pieces? 
External Factors Making Difference
A real big contributor to stress or calm behind the wheel is other traffic sharing the road.  A couple of winters back I wrote about this important factor for winter travelers. 
A driver's experience of wind, rain, or snow will also vary a lot depending on the size, age, and mechanical condition of the vehicle being driven. It can give perspective too, to think in terms of contingencies. If my car were disabled and I had to wait for help, how well could I endure that time? It's exactly this type of consideration which plays into the advice given by the National Weather Service on social media for winter travel. Just remember that this type of preparation helps us to have more of what we need whether a journey brings what we expect or something unexpected.
Here is some general advice on travel during winter storms, and this National Weather Service winter resource page provides a lot of good information!
This is the third post in my series addressing What to Do When You Don't Know in which I show some of the tactics that I use for planning around uncertain weather and potential forecast changes.  During the first week, the focus was upon the types of changes experienced when traveling from one location to another, and the benefit of noticing trends across geographical distance. A couple winters, ago I posted an article containing a detailed example of how I apply this in everyday life!
I rang in the New Year 2020 by focusing on how forecasts change over time, explaining that trends showing up in the forecast for a certain day in the future (for example a shift toward more or less precipitation) are very significant. Forecasters don't adjust the outlook unless they are confident that the revisions represent an improvement over the previous forecast!
In this post, I look at ways to get a second opinion on the forecast.  I like to leverage the fact that there are many locations where the NWS forecasts for adjoining counties are created by different forecast offices.  The forecasters do coordinate on conference calls regarding the big picture trends, but the differences seen across county borders over a relatively few miles provide a lot of insight.  When you cross a county border, the wording of the forecast often changes.  That can be an early tip-off that the weather may be subject to change over a short distance.  If you have more time, comparing the hourly forecasts for nearby counties will yield insights on specifics of cloud cover, temperatures and wind.
Click here to see a map of the service areas of the various NWS forecast offices.  Then if you click anywhere on the NWS national map, you will (briefly) see an outline of the forecast area of the local weather service office.  Within a couple seconds, the local page for that forecast office will load in your browser. 
When the Weather is Too Quiet
Some very stable weather patterns where changes occur slowly are common in much of the US in late summer and parts of autumn. At these times, weather features are weak or almost non-existent. There is little to be evaluated and the forecast can be virtually the same from day to day. In such patterns a quick glance assures that things are remaining on course and there aren't any surprises forthcoming. When rain-making systems approach or when there are fronts passing through, the comparison of adjoining counties becomes more interesting again and will yield more insight.
When the Weather is Too Noisy
On the other end of the activity spectrum, in the midst of a large winter storm or severe thunderstorm event, the weather is clearly unsuitable for certain types of activities. The focus then becomes staying safe and securing property. So much weather information is available that at such times I pare down my attention to the essentials! I am seeking the best information for my precise location and waiting for another time to look at details across the local area.
Follow the Forecast in the Right Direction
Perhaps you find yourself asking questions like these….
I want to go to the beach on Saturday but rain is in the forecast. How long can I hope the forecast is wrong before giving up and changing plans?
I have tickets for the game next week and the weather forecast looks uncertain now. How soon until I can be more confident it won't be rained out?
Usually, the weather forecast for a certain day has a higher potential to change when that day is farther in the future.  A forecast change is often more likely when the weather system is coming from an area in which there is relatively little data available.  The places where humans do not live are examples of data-poor regions.  Systems originating over oceans, in the Arctic, and even in some mountainous areas can be harder to forecast.  Smaller weather systems may increase this difficulty because their details can be lost between points in a sparse observing network.  The best practice is to keep tracking the trends for any day on which you have weather-sensitive plans.
Tools for Trend Followers
That's why I really like the hourly forecast graphs (explained last week), because they give an idea of the trends at a single glance. Trends can show up in the PROBABILITY of precipitation, in the AMOUNT of rain or snow expected, or in the DURATION of precipitation. Trends show up in the strength and direction of wind and even in the temperature forecasts. In last week's blog post, I described how hourly forecast graphs also show a lot of value – especially for travelers) in comparing the expected weather in one location to that in another location.
This is also why I value the QPF precipitation forecasts, because they show at a glance the LOCATION of the greatest rain or snow amounts. These forecast maps also reflect the tendency for forecast rain or snow amounts to increase or decrease over time as a weather event approaches.
This is also why I find National Weather Service forecaster discussions like this one indispensable. Though I have the background to look at all the weather data myself and draw conclusions, I enjoy having the opinion of others who have more time to look at all the data and tell me how the trends are unfolding!
Invest Time for Happy Conclusions
So I recommend spending a couple minutes each day keeping an eye out for potential forecast changes. Use these hourly detailed forecasts for your area. There will be stretches of many days or even weeks in a quiet weather pattern when any changes may be minimal and unimportant. For the other 5% to 10% of days, catching on early to trends when the forecast is moving in an important way will make your investment of time worthwhile.
In a Stormy Place, Looking Toward Better Conditions
How different this world is from the one in which I was raised. For the best weather information forty years ago, I would listen to the local AM radio station or call into the automated National Weather Service forecast line (answering machine). The forecast would be the same across a forecast "zone" comprising between six and nine counties. In today's world, using the steps listed underneath the image below, I can click any spot on a map of the US to get an hourly National Weather Service forecast for that precise location.
Hourly Weather Forecast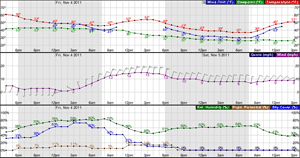 Uncovering Important Details
While winter weather headlines are issued for entire counties, being able to look at the details for precise locations is very useful information to me! That type of detail is especially valuable on this weekend between Christmas Day and New Year's Day when I have been contemplating a 200-mile trip east to visit relatives. The winter storm moving into the region today will bring snow, sleet, and freezing rain turning to rain and then eventually back to snow with wind. Focusing on the area through which I want to travel, I looked 100 miles to the east, representing the halfway point of my trip. I see that snow ends or turns to rain two hours earlier at this "halfway point" than at the point from which I am departing. With temperatures then quickly rising above 32 degrees, I know it is a situation in which I would be inclined to start my journey just as soon as conditions begin to improve at my house. That's because I have the information to know that any slippery roads will soon improve to just wet. (NOTE: I also have evidence that weather for the return trip in a day or two could be difficult, so I am staying put for now to await another opportunity!)
Trustworthy Forecast Trends
The actual transition time between hazardous travel weather and safer conditions is often shorter than expressed in the weather forecast. NWS forecasters often hedge on anticipated trends because, with some level of uncertainty in forecasting, they want to be careful not to give people a false sense of hope or security. For this reason, I look upon a trend in the forecast (that occurs when the forecast for a given time frame is changing as we get nearer to the event) as a VERY significant sign that the weather will end up different than originally predicted. These trends, once underway, tend to keep going in the same direction! For example, if on Thursday, the forecast for Saturday were to call for "four inches of snow", then on Friday, the forecast says "two inches of snow tomorrow", it's quite likely that by Saturday morning, you'll wake up to a forecast of "less than an inch".
Many weather maps are now freely available that, prior to the rise of the Internet, were only available via an expensive direct satellite feed.  These can be interesting and helpful to travelers and others interested in the weather, provided you know how to interpret the time stamps.  Many National Weather Service products express time rather cryptically, either ending with a Z (in the sample weekly precipitation outlook below see the inset image with examples outlined in red) or the letters GMT (Greenwich Mean Time).  Another variant of this is the abbreviation UTC — Coordinated Universal Time.  
There's no need to be dismayed or confused by this.  Since weather observations and forecasting long ago became a worldwide operation, the various weather agencies needed a common timeframe via which to exchange and align their observations and outlooks.   It was decided that the common time adopted would be that of the prime meridian (0 degrees Longitude) which passes near Greenwich, England.  While those who have worked as weather forecasters shift between time zones naturally and easily, it is not second nature to most other humans.  There are a couple of excellent time conversion websites of which I would like you to be aware.
Online Time Zone Converters
I like this site (which also has a mobile app) because it shows the current time in several US time zones along with GMT on a single display.  This allows easy conversion from GMT (or "Zulu time") to your local time. 
I love this timeanddate.com site because it shows each of the time zones for the United States (and beyond) on a map.  By clicking on the time zone and then the link to any state, you can find details as to which counties in that state are in the time zone, and also get an idea of what happens in that state at the "Spring forward" and "fall back" times of year.  Indiana and Arizona have a much different procedure with respect to these time changes than most of the country! If you're really fascinated by the subject of time zones see this world map showing all of them!  One notable is that outside of North America, only Australia and Russia appear to be served by multiple time zones.  In most of Africa, Europe, and Asia the time zone boundaries tend to align along national borders.
Top Blog Posts